Did you remember to translate this crucial element of your website?
When you think of translating your website, what comes to mind are probably all the texts that compose a webpage — page titles, URLs and meta descriptions, as well as welcome, about us and contact pages, product and service descriptions, partner reviews etc.
And you are of course right, all these should be translated. But there are other elements to your website which are less obvious — yet should also be taken into account when creating a foreign language version of each page.


Do you have videos on your website which are relevant to your foreign customers? You should have them subtitled. Are you using PDFs and ebooks as an advertising and conversion tool? Remember to translate them as well.

Translating these materials is important for two reasons: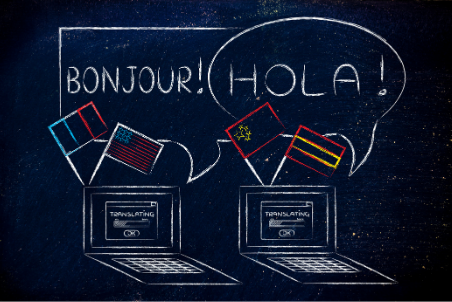 1. Reading relevant materials in their native language helps your prospects and customers navigate your website and relate to your product. This means a better user experience for them, which will lead to greater trust in you and more conversions and purchases.
2. It gives search engines a greater number and frequency of keywords to find on your website. Which means your website will rank higher in a search engine results page when foreign prospects are looking for your products.
So much for written and spoken materials.
What about your website images? You can't translate images, do you?


Well, as funny as it may sound, in some cases you do need to translate images. Let's check what those cases are:
• There's text in the image itself. Think a Merry Christmas banner, a photo of that Save the Planet t-shirt you are selling, or a graph with captions. In this case, image translation means that in your foreign-language website you will use an identical image to the original, but with the text translated.
• The image contains no text, but it does have an image description. This description — the Alt Text, for "alternative text" — does not appear anywhere in the front-end of your page, so it is not relevant to the user experience. It is however indexed by search engine crawling — it "tells" the search engine what is in the image. Which means that a relevant alt text will influence your website's rank in a search engine results page. So, you should definitely have that Alt Text description translated when creating your multilingual website.
• While you are at it, don't forget to translate the image title, as well as the image URL. A title and URL which include relevant keywords will both help search engines find your webpage.
• Your image contains a link to another page. Have the link translated, so your foreign prospect knows where that click is going to take him. It may look like an unimportant detail, but it's details like these that create a flawless user experience for your visitors.
If that sounds like a handful, don't be discouraged. There are plugins that help you translate your website images in an easy, organized, and efficient way. Just make sure that you have a team of professional human translators operating the plugin, so you avoid embarrassing translation mistakes. With this precaution, image translation will be a positive improvement in your foreign clients' user experience.