Working with foreigners?
Pay attention to your body language
We all know that different countries have different cultures. But if you have never lived abroad, nor interacted with foreigners living in your country, this may remain a piece of theoretical knowledge to you.
How does it translate into practice when you are dealing with co-workers from other countries?
Cultural differences can happen in a thousand areas, but here we'll focus on one only: body language.
This includes facial expressions. Not the micro-expressions which are universal and can always be detected by a trained observer, but those expressions we can control — smiling, frowning, laughing, pouting and so on. With these, there is a variation on what is acceptable from country to country.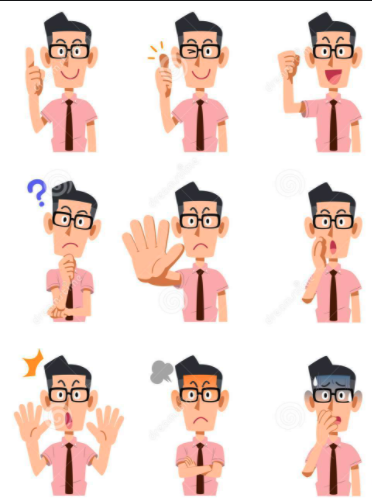 In Japan, for instance, it is polite to hide your emotions. But in the Philippines, the polite thing to do is to show people how you are feeling, so that they know you are honest and genuine.
In Ukraine, shop attendants don't usually smile when serving a client — which is perfectly normal in that country but comes across as rude to someone from Latin America.
Another example of cultural body language difference is the way the English and the Swiss greet. The English shake hands when meeting a person for the first time, but on subsequent meetings, a verbal greeting between the two is enough. The Swiss, on the other hand, consider it polite to shake hands every time they meet.
Also, some body postures and gestures which are meaningless or even friendly in one country may be overly intimate or offensive in another.
In Islamic countries for instance, showing the soles of your feet to someone is very offensive. And "fingers crossed", which in countries like the US and Brazil means "rooting for something", in Vietnam is considered an obscene gesture.
So, how do cultural body language differences impact you as a businessperson?
If you are working only with your own countrymen, these differences probably don't impact you at all. But what if you are globalizing your business — selling to foreign customers, hiring experts from other countries, partnering with an overseas company or even starting a branch of your own company abroad?
In those cases, you just have to remember that people prefer working with other people who are respectful, sensible and empathetic.
It doesn't matter whether they are your employees, partners, or clients — you have every interest in communicating as clearly and smoothly as can be with your new professional contacts.

And this is why you should take the time to learn about body language in their culture. Make sure you know the basic differences and avoid the most obvious and offensive mistakes. If you are not alone in interacting with your foreign partners — if say, you are travelling abroad in a company group — you can brief your employees or colleagues on this subject.
If it's something bigger — a company merger or a partnership involving many people in both companies — the best thing to do is to have a team dedicated to bridging cultural differences. They will help both sides understand each other and work harmoniously together.
But the most important thing is to be respectful and open. Show an interest in learning and apologize if you do something wrong. "Peace on earth to men of good will" really is a thing — even if you do make mistakes and faux pas, they can be smoothed over if your general attitude is one of awareness, respect, and appreciation for the people you are working with.